MOUNTAIN MADNESS VIRTUAL COMPETITION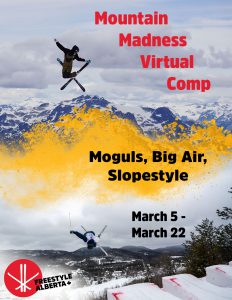 MARCH 5 – MARCH 22
Athletes will have two weeks to train, film, and submit videos of their competition runs in Moguls, Slopestyle, and Big Air. We will have a judging panel of three who will then judge the submitted runs. Top three from each category will be announced and provided their scores. Other scores will be provided upon request. Athletes will need to register for the event for their video to be viewed by the judges.
CATEGORIES:
U14 – Ages 12 and 13
U16 – Ages 14 and 15
U18 – Ages 16 and 17
Open Category
EVENT RULES:
Only one video entry per event.
No GoPro videos will be accepted
Coaches must be present during training and filming for every event.
Must be a member of Freestyle Alberta
MOGULS
Must be a built Mogul course containing at minimum one jump with moguls into and out of the jump
Can only submit one run
Must be filmed from the bottom of the run
SLOPESTYLE
Must include two features and two table top jumps.
Must be filmed from a perspective to see all features
BIG AIR
Can submit two jumps on one video submission for a combined score
Must be filmed from the knoll
Tables must be a minimum 3 feet large (U14)
TOP PRIZE:
The top male and female athletes will be provided an invite to Freestyle Alberta's Talent ID Camp 2021.
More prizes to follow.
REGISTRATION:
Registration costs: $20
SUBMISSION:
Please ensure your files are titled; last name, first name event. (Ex. DoeJaneMoguls)